We're back with our seasonal feature, My Mum's Threads, the Winter installment! For this season's post, we've joined forces with some of our favorite mamas around the internet (catch their links at the end of this post!) so you can see and hear about some of their must-have items to stay looking chic and put together while on the Mom Job. But first, whether we're wiping a nose, kissing a boo boo, grabbing lunch with friends, or running to a meeting, this is how we do it.
\\ On Emily:
When it's cold out, Emily's must haves are a thick and stretchy pair of denim to stay warm,  boots with a little rock and roll edge, and pops of color to combat the white-out scenery.
"My ideal pair of cold weather denim is BDG's Cigarette Skinny from Urban Outfitters. Super thick, but stretchy like leggings, it's perfect for cold temperatures, but still easy to move in. I am obsessed with any color or pattern of the Sam Edelman Petty boots. With a slight heel to keep me feeling a little dressed-up, while hitting that sweet spot on my ankle — they go with jeans, or tights and a skirt, but they don't make my legs look stubby. They're pretty perfect! Anytime I can add some color, I love to do it with accessories: a beanie, a bright manicure, or even wash out hair chalk!"
\\ On Jenna:
Jenna's family loves to adventure and leads a really active lifestyle. Her go to Winter looks include a heavy duty yet still shape-flattering waterproof jacket, she keeps it chic by going all black, and keeps it functional with all-weather Sorels!
"I like to be ready for just about anything: whether it's a ski day, a ballet barre class, or even a nice dinner out. I feel like wearing all black makes all of these things possible in one day. That first layer is the Zella Glam Melange Jacket, and then I top it with my favorite Mountain Hard Wear Ghost Whisperer
Down jacket. Add Sorel Tivoli
boots and come blizzard or preschool program, I'm ready."
\\ On Nicole:
Nicole excels at looking feminine and party-ready no matter what the weather brings. With a thick tights, a wool pencil skirt, tough but sleek wellies, and a coat for every day of the week, she pulls it together day in and day out.
"Winter is no excuse to put away my favorite feminine pieces! I love JCrew's No.2 Pencil skirt in wool. It's perfect for winter, and fits better than any skirt out there. I also love the short version of these Hunter boots, tall enough to keep the snow out, but lightweight enough to chase some toddlers. Since the coat is the final layer to any wintry outfit, I can't help but collect bright and fun coats to keep things interesting. The brighter the better!
And now for the link-up! Here are the rest of the awesome mamas hosting the link-up today! If you'd like to join, just add the button using the HTML coding below. Once you've done that we'll be checking out everyone's additions and featuring our favorite three on the blog! We can't wait to see your own mamattire shots!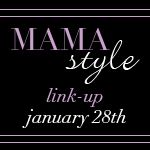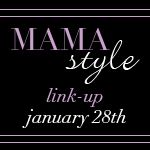 For outfit breakdowns keep reading!
On Emily:
Beanie and collar necklace: H&M // sweater: Forever 21 // BDG Cigarette denim: Urban Outfitters // suede ankle boots: Sam Edelman "Petty" // Jacket: Gap // Watch: Target
On Jenna:
First layer: Zella Glam Melange Jacket // down jacket: Mountain Hard Wear "Ghost Whisperer" // black denim: Paige Premium // boots: Sorel Tivoli's
On Nicole:
Beanie: H&M // jacket, skirt, and sweater: JCrew // tights: Gap // wellies: Hunter